73-87 Novelties - Miscellaneous
A "junk drawer" if you will, consisting of various 73-87 items that I own and/or have collected throughout the years, or just random things I have seen that we all might enjoy or find interesting. Click on the image to view full size jpg.
Stickers & Decals

Apparel Related (patches, iron-ons, clothing, etc.)
If you are like me, and into all things 73-87...then you need a 73-87 t-shirt in your wardrobe. Mac-Ink Customs offers these fantastic high quality t-shirts at unbeatable prices. You can choose from many different styles, colors, wheels...you name it. Mac-Ink also offers color posters and car show displays. I myself have purchased a shirt and poster that replicate my 1973 truck and am very pleased with each! The owner Tony, is a great guy and excellent to deal with. You will not be disappointed. Tell Tony Jeff from 73-87.com sent you.
Fall Guy Items

Decorations & Artwork
Christmas card feature artwork by Roger Warrick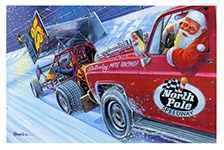 Not quite sure what to make of this, I like it...but then I don't (for obvious reasons). The School Of Visual Arts in New York, New York created this project titled "OFF ROADING: The Reinvention Of The American Gas Guzzler". This was an exhibition of work by 3D design students in the BFA Advertising and Graphic Group Department, created by 3D design chair Kevin O'Callaghan. Students acquired a 1980 Chevrolet "monster" K10 and systematically disassembled it and transformed the parts into functional objects. Love it or hate it, you have to admire their creativity. Click on the thumbnail to see the larger image.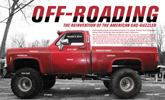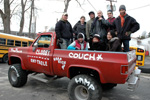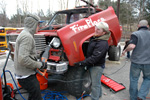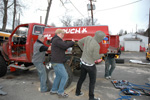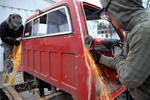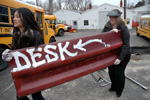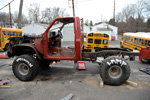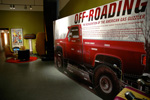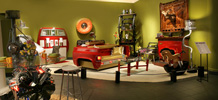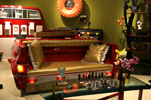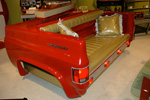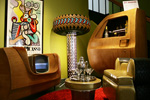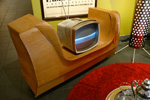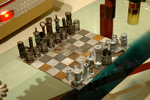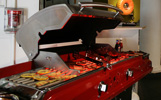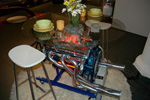 Gaming
While surfing the internet, I stumbled across a website with a TON of cool looking rendered 73-87 GM trucks...Indy Haulers, Beau James, Fall Guy...you name it, there were LOTS of them! Not really knowing what I was looking at, I contacted the site owner, Kevin Muhs, and asked if he could fill me in and tell me more about these neat creations. Kevin created all of these trucks for the game Monster Truck Madness 2, and they are all available for download so you can play the game driving one of your favorite square bodies. Kevin is a huge fan of the 73-87 line, and has a NICE '79 stepside of his own (click thumbnail below). Kevin tells me there is a pretty loyal following for this game (which has been on the market since 1998), with several online communities as well. I lifted several of my favorites from Kevin site, click the thumbnail below to see a larger image of the truck. If you actually want to download one of the trucks and use them in the game, you will need to do so from Kevin's site, which is linked above.
So what are you waiting for? Download Monster Truck Madness 2 (Google it), grab a few of Kevin's creations, and run over everything in your path!
I do ask this, if you download one of Kevin's trucks, please be sure to thank him and give him due credit should you join one of these on-line communities.