73-87's on Television and in the Movies
If you are like me, then you like watching movies or television, especially when there is some form of automobile wreck, chase, or influence to them. Although the 73-87 GM truck line hasn't been on the small or big screen all that often, there are a few that have been...and here are some of them.

Television
If you were born in the 70's like me, you then more than likely you grew up watching the popular television show "CHiPs". "CHiPs" was a action/drama show based on two California Highway Patrol motorcycle officers (Ponch & Jon) who were always fighting the bad guys and hanging out with the ladies. Now by today's standards, the show is pretty comical, but the one thing I remember was the mid 70's blue stepside 4X4 Jon would drive on occasion. Although it was only on a handful or two episodes, it did see quite a bit of action. If you want to learn more about "CHiPs", click here to see a website dedicated entirely to the show. To see a larger image of Jon's truck, click the image below.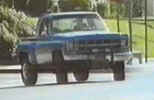 ___________________________________________________________________________________
Another late 70's early 80's action drama television show was "The Fall Guy". This was a show about a stuntman and his friends who also fought the bad guys, and their weapon of choice was a lifted fleetside 4X4. In some of the episodes, it was a late 70's model, while in others it was an early 80's model. If memory serves me correctly, they also used both short bed and long bed models. While not completely consistent on the model of trucks being filmed, it too was a great show for the time and will provide any 73-87 enthusiasts plenty of entertainment. If you want to learn more about this show, here is a site with some information.

Site visitor Johnnie Morris sent me some super cool scans from an older issue 4 Wheel & Off Road, featuring an article on the Fall Guy truck and show. Very cool reading! Thanks Johnnie for the scans and sharing them with us.
___________________________________________________________________________________
Another older classic TV show sporting our favorite movie star was The Rockford Files. I will have to admit, this show wasn't one of my favorites...so I don't know a lot about it, but one of the Characters named Rocky drove a pretty cool GMC short bed 4x4 decked out in Vic Hickey equipment. Below are a couple sweet vintage articles, one out of a 1977 issue of Trucking Trends, sent to me by a visitor named Russell Cook (thanks Russell!), and the other out of the January 1977 issue of 1001 Truck & Van Ideas. Click the thumbnails below to see the full size image.
I am not sure if this series actually aired or not (I would be surprised if it did to be honest), but check out the article I found in an older issue of Truckin' regarding a TV series pilot starring Ex-football great Dick Butkus and an 80's Chevy Suburban designed and built by Specialized Coachworks.


Moving on to newer stuff, there has been a few 73-87's to get some television time lately...

"Trucks" and "Extreme 4x4" are popular television shows on Spike TV's Powerblock, and have had their fair share of 73-87's featured on them. Trucks used to be hosted by a gentleman named Stacey David. On the show, Stacey took ordinary trucks and turned them into one-of-a-kind works of art, built to out perform and out look any other truck like it. Stacy has since left Trucks to host his of show "Gearz", and Trucks is now hosted by Kevin Tetz and Ryan Shand. The most recent 73-87 on the show was a '79 C10 they turned into a derby truck...very interesting build and fun to watch. Extreme 4x4 in another show on the Powerblock, it is hosted by a very funny guy named Ian Johnson. This show focuses obviously on 4-wheel drive vehicles, and has had a couple really interesting builds on it lately. They were a mud racing truck, and a mid 80's Suburban that was turned into an aftermarket bodied Hummer. To see these trucks for yourself, and learn more about the shows and their host, follow the links below.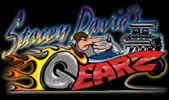 ___________________________________________________________________________________
MTV's "Pimp My Ride" is another popular television show, and it is hosted by a rap singer named Xzibit. The show basically takes a clapped out car or truck and "Pimps" it out for the owner, with West Coast Customs performing the work. Episode 203 happens to star a 1985 Suburban, here is an excerpt from MTV's site...
Alice's 1985 Chevy Suburban could be easily mistaken for a mobile junk yard. While most Suburbans sport roomy passenger seating, Alice's ride is filled with tires suited for monster trucks. No wonder Alice and her friends are embarrassed to cruise in this ride.

Luckily, X and the guys at West Coast Customs have some tricks up their sleeves. After all, Alice, an aspiring hair & make-up stylist shouldn't be seen in a car where the doors don't open or close correctly. Say goodbye to the exposed wiring on the inside roof and no more marks on the hood where angry passerby's took out their frustration. It's time the Crew made this Chevy mirror Alice's personality--tough on the outside and feminine on the inside.

First things first, Alice's ride is completely gutted, and the rust spots all over the truck are sanded out. Next, a fresh coat of custom-color paint is added. In addition to the 23" monitor and Xbox in the back of the truck, eight 10" woofers line the headboard of the loveseat that Ish custom built in place of the third-row seating.

When Alice sees her newly transformed ride, she is so overwhelmed that she can't stop shaking. She is in awe of the 6" monitors under a Plexiglas cover that line the floor of the passenger area. The guys installed a custom made sink and vanity area so Alice can fix up her make-up with her new make-up kit, neatly tucked away in the center console, after a long day. Alice can finally drive to her client's homes without feeling embarrassed; her tank has been pimped into a Class-A ride.
Click the pictures and MTV's link below to see and learn more about the transformation of this rig and the show itself.
___________________________________________________________________________________
Reality television seems to be the craze lately, and while I do not particularly care for it, there is one reality show I do like to watch..."Monster Garage". "Monster Garage" is hosted (if that's what you want to call it) by the world renowned custom motorcycle builder/fabricator Jesse James. On this show, five individuals are given six days to turn ordinary automobiles into outrageous monsters. Some of the hybrids they have built are a Peterbuilt motorcycle, Mustang lawn mower, fire truck limousine, and my personal favorite...a '88 Blazer (not sure if they got the year correct) built to run Pikes Peak. Below are a couple pictures of it as well as a link to TLC's "Monster Garage" page.
___________________________________________________________________________________
In the country music/video department, we have Gretchen Wilsons video titled "Redneck Woman". This is a neat little video of Gretchen Wilson singing her song as well as driving a 70's lifted and red K10 short box thru the mud sideways. The red K10 actually gets quite a bit of camera time while it slinging mud all over the place. While I admit I am not a four wheel drive guy, it is fun to watch and brings a smile to my face every time I see the video. Click here if you would like to download it.

Movies

Opening April 3rd 2008 is the fourth installment of the Fast and the Furious series. While I do not know much about the movie itself, there are a couple interesting 73-87s in it that might be fun to see, even if they have a pretty small part. Below is information taken directly from Edmonds, which also has information on the other vehicles used in this movie. Great site!
If the copper 1967 Chevrolet truck is the beauty of the opening heist in Fast & Furious, then this is its beastly brother — a six-wheeled crew cab Chevy from a matte-black hell.
Like the '67, its crew cab companion has been thoroughly re-engineered from the cab back to accommodate oversize components swiped from larger trucks. So the rear frame is all box-section tubing and the twin rear axles are supported by 10 links and four airbags. Power comes from a fresh GM 572 (more than 600-horsepower) big-block V8 backed by a four-speed manual transmission, which is needed considering this beast weighs 6,000 pounds.
The picture car department built three of these, plus one engine-less buck. One was built with all four wheels in back driven so it could do spectacular four-wheel burnouts. Unfortunately, that's not seen in the film. All the trucks have survived and are in storage.
When in Mexico, it's always a good idea to have a squadron of villainous henchmen on call at all times. And if they need to show up fast in the middle of the desert, what more economical way for them to travel than a few fully tricked-out Chevy Suburban 4x4s?
Though the Subs were minor players in Fast & Furious, they were involved in one of the heaviest stunt sequences. So the picture car department built four of the beasties (plus one parts truck) and all were destroyed.
Of course if you've read this far, you'd like to know why this particular generation of Suburban was chosen. It's simply a matter of the 1973-'90 Subs being a particular favorite of picture car coordinator Dennis McCarthy. Over the years he's used these rugged trucks as the basis for numerous production vehicles, including camera cars and chassis replacement vehicles. Consider this his personal celebration of the trucks.
___________________________________________________________________________________
Premiering in theatres in March 2006, Larry the Cable Guy: Health Inspector (comedy) is the latest movie to feature a 73-87. While I have not yet seen the movie, there is a 70's step side 4x4 in it, referred to as the Larry Mobile...obviously it must be Larry's truck. To learn more about the movie, or Larry the Cable Guy, check out this website. When and if I see the movie, I will add a little more information here. Until then, click the thumbnail below to see a larger image of Larry and his truck.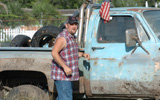 ___________________________________________________________________________________
Another 73-87 to grace the big screen was Billy Bob's 70's LWB 4X4 in the movie "Varsity Blues". "Varsity Blues" is a movie about a group of high school kids who played football and liked to party. While Billy Bob's truck didn't get a whole bunch of screen time, it was a very nice truck and one I would like to find more pictures of. If you are reading this and happen to have a picture or two you would like to share, drop me a E-mail if you wouldn't mind so I can add to this page. For the time being, below is a cast picture of them in the back of the truck. EDIT: A very nice viewer named Chris O. from Vancouver British Columbia was nice enough to send me a few screen shots of Billy Bob's truck. Thanks Chris!
___________________________________________________________________________________
Another fairly recent movie (and one of my all time favorites) with one of our trucks in it was "Dazed and Confused". "Dazed and Confused" is also a movie about a bunch of high school kids, but these kids are celebrating the last day of high school in the late 1970's. In the movie you will see all kinds of cool cars, cars such as a 1970 big block Chevelle, 71/72 C10 short box (a great chase scene!), 1970 Plymouth Superbird, a GTO Judge, Duster, and most importantly, a late 70's C10 long bed. Like "Varsity Blues", its screen time was minimal, but a site to see none the less. With cool cars and trucks, a great cast, and an awesome soundtrack..."Dazed and Confused" is a must see if you haven't already. Unfortunately, I have no images to share of this truck, but like I stated above, if anyone has any...I would love to see them.
EDIT: Thanks to a visitor named Chuck M, here are some screen shots of the above mentioned GMC. Thanks Chuck!
___________________________________________________________________________________
Chuck also informed me of another movie featuring on of our shoe boxes, "Hooper" is the name of it, and here are a few pictures Chuck was able to capture. Unfortunately I have not seen this movie and know nothing about it...so you'll have to run to the video store and check it out for yourself.
___________________________________________________________________________________
There are quite a few more movies out there with 73-87's in them, listed below are some of them. So, next time you go to the video store, look for these classics to rent.

Any Which Way But Lose
Cannonball Run
Earthquake
Jaws
Last Action Hero
Red Dawn
Smokey And The Bandit
The Driver
The Terminator