Failure is Cause for Weeping
Some GM transmission yokes, primarily those used on trucks, have a weep hole that relieves pressure buildup caused by the yoke moving back an forth as the vehicle passes over bumps and other road irregularities. If the trans in your truck leaks fluid when the vehicle is parked uphill, fluid may be coming out of the weep hole due to failure of an output shaft O-ring.
If your truck has this weep hole (arrow in photo below), you will be able to see it with the driveshaft removed by flipping the yoke to the side. It will be in the center behind the u-joint.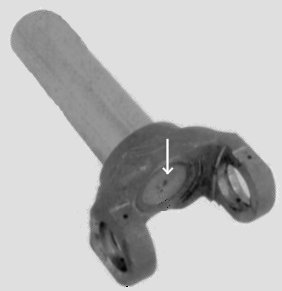 The O-ring in question (pn GM3764601, 700R4 shown) is installed in the cup on the transmission output shaft (arrow in photo below). Access it by removing the transmission extension housing.