67-72 CAB
CORNER 6X9
SPEAKER BRACKETS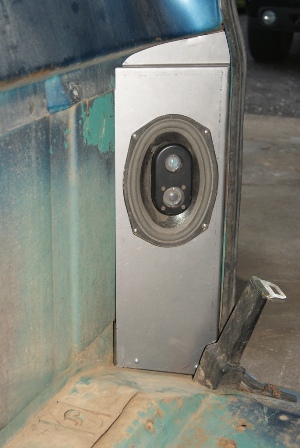 CLICK HERE FOR
MORE INFORMATION!
73-87 CAB
CORNER 6X9
SPEAKER BRACKETS


CLICK HERE FOR
MORE INFORMATION!
73-87
KEYRACK
COAT HOOK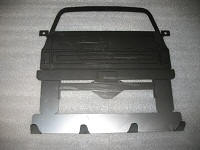 CLICK HERE FOR
MORE INFORMATION!
Last Site Update 08/22/12
Latest Additions and Updates
2012 UPDATES:

Revell has a new kit on the market, a rarity for the squarebody crowd! Click here to read more about it, and to see more 73-87 models that can be found...click here to be taken to the models portion of the site.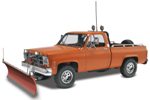 I found this neat video that was posted on www.67-72chevytrucks.com and had to post it here, since of course, it is 73-87 related. I have never seen a fifth wheel like this, definately interesting and fun to watch! Enjoy!

It has been tough keeping the website updated over the past year or so, with updates few and far between unfortunately. With a family of five and not much more than a single income, time and money have been the contributing factors. While this website is free to use, maintained and paid for completely by myself, it is becoming somewhat stressful to upkeep and I feel as if I am not providing the quality of website I once did. To help alleviate the financial part of it and give me that kick in the butt I feel I need, I thought I would try something a little bit different. From now until December 15th, anyone who donates money to the site will be put in a drawing for a FREE pair of cab corner 6x9 speaker brackets! It doesn't matter if you donate $5, $10 or more, everyone's name gets put into a hat and my kids will pick the lucky winner, who will then have a FREE Christmas present to open courtesy of 73-87.com. Donations will go towards domain or server fees, or even towards the purchase of content for the site itself. Again, this is not something you have to do, but something I personally would be appreciative of and hopefully will benefit the visitors of the site. Please click the DONATE button below if you are interested. Thank you!

Some of you may recall the Autometer gauge brackets I had for sale on here, these are the brackets that would mount the gauges behind the bezel at the correct angle. I no longer sell due to the fact that there are too many different gauges and sizes on the market, it was impossible to design and fabricate the brackets because I didn't physically have all the gauges to take measurements from or the cooperation of Autometer to supply them. I do have good news however, I am now offering to build the complete assembly for anyone who is interested in this upgrade. You will need to send me the gauges (any brand), dash bezel, cluster housing and cluster lens, I will do the rest. The price is $200 and that includes the brackets obviously. If you have gauges for brackets I do not have designed, there will be an additional charge of $75 for the design and fabrication of them. If you are interested or have any questions, please send me an E-mail. Pictures below are some of the clusters I have recently built, or had a hand in the creation of, along with some feedback I have received.
PERFECT...that is how this bezel came out, Jeff's quality and workmanship are second to none. If anyone is looking to have their gauges done the same way, I would not hesitate to recommend Jeff. He is very passionate about his work and it shows. ~Bill from Pittsburgh

If anyone has a lead on a stepside bed camper shell/topper in the Escondido/Oceanside part of California (or surrounding areas), please send an e-mail to jdrew@73-87.com. A visitor of the site is looking for one, I will forward any information you send on to him. Thanks folks!

A gentleman named Brian G sent me a photo of his 1976 GMC Impact...and was I floored when I opened up the e-mail to view the attachment! This is one RARE truck, and while the styling may be a bit much by today's standards, remember, this truck was built in '76 during the height of the disco craze! I have been promised more pictures and info on the truck, when that happens, I will update the Impact page and include the information there for everyone else to see. Thank you Brian for sharing your amazing truck with me and allowing me to share it with all the visitors of the site.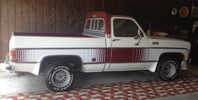 These are older pictures, but I somewhat recently had the bumpers re-chromed...and shaved the bolts while I was at it. In addition to the new bumper pictures, I now have updated assembled pictures up for the first time. Full size pictures can be found on the exterior page of the build.
I mocked up the remote on/off switch for Yeller ('73) on my '75 the other weekend. Visit the exterior portion of the Yellers build to read more about it.
I was lucky enough to score a free play/swing set from a co-worker of mine recently...all I had to do was haul it away! While this set is 20 years old or so, I figured I could throw a couple hundred at it refurbishing it, and still come in way cheaper than if I were to buy one of these brand new ($600+ depending on brand and style). With the kiddo's super excited and myself super motivated, my friend Paul and I hopped in the '75 Silverado and went to pick it up. It took a little work to break it down into a manageable size that would allow us to haul it home safely, but we got it done and loaded into the back of the truck. The '75 did a great job hauling this 30 miles home on a very windy day, the 454 didn't complain, and the suspension seemed to say "is that all you got for me?". Below you can see the condition and size of the set, followed by a couple pics of us arriving home safely. Click the thumbnails to see the full size picture.
I was recently contacted by The New York Times for an article being put together for the upcoming 100 year anniversary of GMC. The journalist name is Tudor Van Hampton, and he selected myself as one of the subject matter experts for the story he was putting together. He and I spoke in great detail regarding the 73-87 GMC's, but since this was about the 1912-2012 GMC line, ink for the squarebodies was pretty minimal....but he did use site visitor Chris Wilde's '77 GMC for the photo slideshow! Click here to read the article, and don't forget to view the slide show to see Chris' stunning GMC (slide 11).

Scanned a few more items for the site, some pretty neat stuff if you are into the unique and off-the-wall factory trucks and aftermarket parts from the 70's. The '77 GMC Desert Fox and '78 Chevrolet Sport articles were from a visitor of the site whose name I forgot and e-mail I lost, my apologies. If you are reading this, BIG thanks for the articles! Click the images below to be taken to the page where you can read all about them.
I would like to grab your attention for a few seconds, and let you know about a terrific speed shop located here in Minnesota. Dukes Race Shop in Elk River is absolutely the place to go if you are looking for any kind of high performance part, or if you want any kind of fabrication work done to your street/strip weapon of choice. The parts shop is wall-to-wall, floor-to-ceiling stocked with any go-fast goodie you could ever need, and the fabrication shop builds incredible race cars with a tremendous attention to detail as well. Owned by Jon Solomonson and staffed by the most knowledgeable and down to earth guys you will ever meet, Dukes has supplied MANY parts for my '73 build, and hopefully can for your square too. If you live in the Twin City metro area, throw away that Summit or Jegs and pay them a visit...its well worth your time!
I know this isn't exactly squarebody related, but I have recently begun making and selling 67-72 Chevy/GMC truck cab corner 6x9 speaker brackets. Click HERE for more information.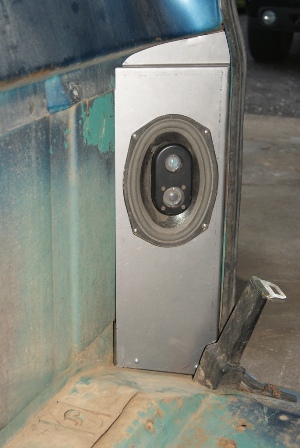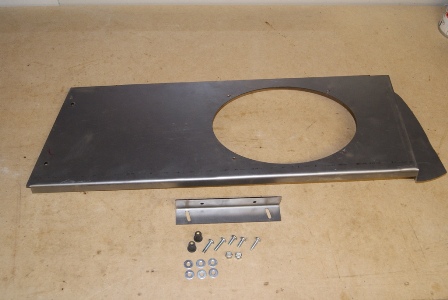 I recently acquired this exceptionally nice 1975 Silverado. This is a pretty rare and loaded truck, that I am enjoying tremendously. To see more pictures and learn all about it, click HERE.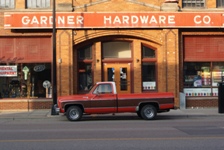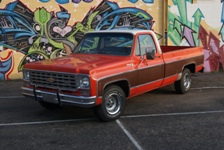 FOR SALE
If you would like to upgrade the speakers in your truck, this might interest you. I have somewhat recently begun making cab corner 6x9 speaker brackets for all 73-87 GM trucks, and 88-91 crew cabs. These brackets are made of heavy duty 16 gauge steel, and fit perfectly in the cab corners...even with the bench seat all the way back. Due to space limitations, only speakers with a 3 1/4" magnet and smaller will fit. You can get the larger magnet speakers to fit with the use of spacers (which I do not make or sell), they can be found on eBay and at most car stereo shops/stores. Please study the below picture carefully to ensure these brackets will fit your truck. Some of the early 3-point seat belt trucks had the retractors mounted where the top of these brackets sit...and therefore will not work. I have sold over 125 sets of these brackets so far, and have had ZERO negative feedback on them, only positive! I have spent a lot of time developing and making these, and take a great deal of pride in them. If you are interested, or just want to learn more and see some pictures and customer feedback, head on over to 67-72chevytrucks.com and take a look. I also have pictures of them installed in my '73 right here on the 'site, click here to see them. If you are still reading this and are interested in purchasing a set, click here to place your order, or send an e-mail to jdrew@73-87.com and let me know. The price, including shipping to anywhere in the continental US, is $65 to your door. Instructions and mounting hardware are included. Made in the USA!

2010 Site Updates
2011 Site Updates
---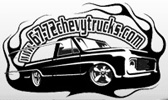 ---