67-72 CAB
CORNER 6X9
SPEAKER BRACKETS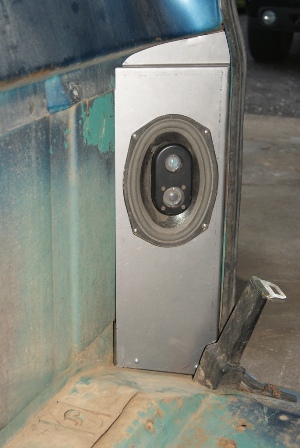 CLICK HERE FOR
MORE INFORMATION!
73-87 CAB
CORNER 6X9
SPEAKER BRACKETS


CLICK HERE FOR
MORE INFORMATION!
73-87
KEYRACK
COAT HOOK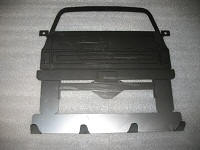 CLICK HERE FOR
MORE INFORMATION!
Last Site Update 10/02/13
Latest Additions and Updates
2013 UPDATES:
Effective 10/02/13, speaker bracket production is back up and running for both 67-72 and 73-87 applications. Thank you everyone for your patience and support during the move to our new home! While I am thrilled to be in a larger home that our family can comfortably grow in to, the move itself was much more work than I anticipated, and one I hope to not have to do again for a long time.
Late summer 2012 was a milestone for myself, it marked the first time since 2000 that I had driven my '73, aka Yeller! While not entirely complete, I managed to put 30 miles on the truck, which felt amazing...I forgot how good it felt to drive this truck. There are a few things to wrap up on the truck, which I plan to do this winter, so I can truly enjoy driving the truck and attending shows in 2013. Some reading this may be wondering "why did it take so long?", to be honest, I asked myself that question quite a bit during the restoration process. The answer, marriage, three kids, home renovations, funds (or lack of), and a full time job. In the end, it is all worth it, and I am looking forward to seeing the odometer tally up those miles this year! I have a few more pictures on the exterior portion of the truck build, click here to be taken there.
I was able carve out some time over the Christmas/New Years holiday to unpack and photograph my 73-87 die-cast collection. It amazes me how much is really out there for these truck, both old and new. To take a look at these, please visit the die-cast section under the Novelties page. While you are there, check out the models page as well, I added quite a few new model finds!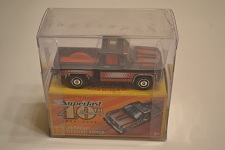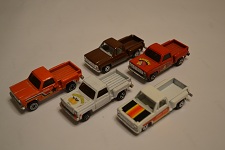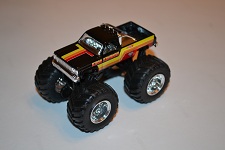 It has been tough keeping the website updated over the past year or so, with updates few and far between unfortunately. With a family of five and not much more than a single income, time and money have been the contributing factors. While this website is free to use, maintained and paid for completely by myself, it is becoming somewhat stressful to upkeep and I feel as if I am not providing the quality of website I once did. To help alleviate the financial part of it and give me that kick in the butt I feel I need, I thought I would try something a little bit different. From now until December 15th, anyone who donates money to the site will be put in a drawing for a FREE pair of cab corner 6x9 speaker brackets! It doesn't matter if you donate $5, $10 or more, everyone's name gets put into a hat and my kids will pick the lucky winner, who will then have a FREE Christmas present to open courtesy of 73-87.com. Donations will go towards domain or server fees, or even towards the purchase of content for the site itself. Again, this is not something you have to do, but something I personally would be appreciative of and hopefully will benefit the visitors of the site. Please click the DONATE button below if you are interested. Thank you!
FOR SALE
If you would like to upgrade the speakers in your truck, this might interest you. I have designed and fabricate cab corner 6x9 speaker brackets for all 73-87 GM trucks, 88-91 crew cabs, and even 67-72 GM trucks. These brackets are made of heavy duty 16 gauge steel, and fit perfectly in the cab corners...even with the bench seat all the way back. I have sold over 300 sets of these brackets so far, and have had ZERO negative feedback on them, only positive! They have also been featured in Custom Classic Trucks magazine. I have spent a lot of time developing and making these, and take a great deal of pride in them. If you are interested, or just want to learn more and see some pictures and customer feedback, head on over to 67-72chevytrucks.com and take a look. I also have pictures of them installed in my '73 right here on the 'site, click here to see them. If you are still reading this and are interested in purchasing a set, click here to place your order for 73-87 brackets and here for 67-72. You can also send an e-mail to jdrew@73-87.com and let me know. Made in the USA!

73-87 speaker brackets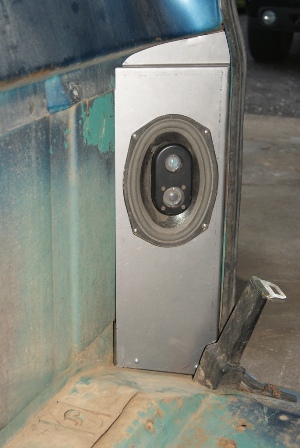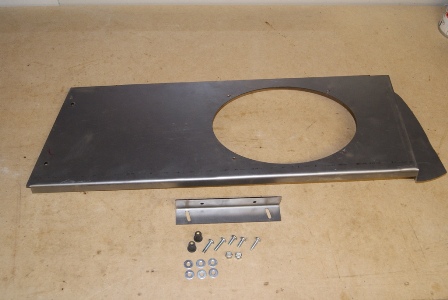 67-72 speaker brackets
Some of you may recall the Autometer gauge brackets I had for sale on here, these are the brackets that would mount the gauges behind the bezel at the correct angle. I no longer sell due to the fact that there are too many different gauges and sizes on the market, it was impossible to design and fabricate the brackets because I didn't physically have all the gauges to take measurements from or the cooperation of Autometer to supply them. I do have good news however, I am now offering to build the complete assembly for anyone who is interested in this upgrade. You will need to send me the gauges (any brand), dash bezel, cluster housing and cluster lens, I will do the rest. The price is $200 and that includes the brackets obviously. If you have gauges for brackets I do not have designed, there will be an additional charge of $75 for the design and fabrication of them. If you are interested or have any questions, please send me an E-mail. Pictures below are some of the clusters I have recently built, or had a hand in the creation of, along with some feedback I have received.
PERFECT...that is how this bezel came out, Jeff's quality and workmanship are second to none. If anyone is looking to have their gauges done the same way, I would not hesitate to recommend Jeff. He is very passionate about his work and it shows. ~Bill from Pittsburgh

2010 Site Updates
2011 Site Updates
2012 Site Updates
---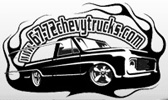 ---